You are cordially invited to
A Musical for the Environment ESD:
Play with Music "Our Blue Planet"
- The future of our planet that we all share is placed in your hands!-
This musical is devising so that participants can send a message
with the ardent love by the earth to the world and the endorsement of ESD
from the stage within a play based on instructions from the specialists of an environmental problem.
With mixing together both part of a song, a drama, a dance and a message little by little,
a stage is made up. It takes the method how some singing and dancing performers
join the part of message and participants who take part in a message
sing songs together a little. We would like actual activists to participate,
and want children and students to convey own opinions or to sing songs together..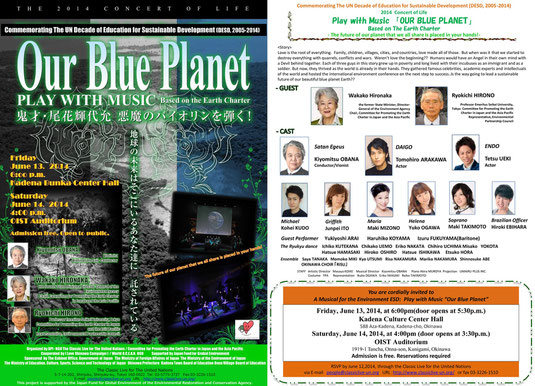 Performed by Japan Classic Live for the United Nations with a kind guests
<Story>
Love is the root of everything.  Family, children, villages, cities, and countries, love made all of those.  But when was it that we started to destroy everything with quarrels, conflicts and wars.  Weren't love the beginning??  Humans would have an Angel in their own mind with a Devil behind together. Each of three guys in this story grew up in poverty and long lived with their incubuses as an immigrant and as a soldier. But now, they thrived as the world is already in their hands. They gathered famous celebrities, academic experts and intellectuals of the world and hosted the international environment conference on the next step to success..Is the way going to lead a sustainable future of our beautiful blue planet Earth??
Friday, June 13, 2014, at 6:00pm(door opens at 5:30p.m.)  
Kadena Culture Center Hall
588 Aza-Kadena, Kadena-cho, Okinawa
Saturday, June 14, 2014, at 4:00pm (door opens at 3:30p.m.)
OIST Auditorium
1919-1 Tancha, Onna-son, Kunigami, Okinawa
Admission is free. Reservations required